Fire Halls & Public Safety: Rural Building Solutions
Since 1998, fire hall construction has been Liberty's passion project. Our 25th anniversary marks a milestone in this sector for us as a company. As we have formed partnerships with First Nation Groups over the last number of years, we have seen a big need for these communities to be able to operate out of proper facilities that meet industry standard safety requirements.
Over the last decade, we have seen a major increase in wildfires and other natural disasters across the country. Unfortunately, small rural communities can at times, be impacted the most by these disasters. Fire halls are needed in all areas (small and large communities alike) to help provide essential emergency services and wildfire protection. Having the ability to quickly construct a new fire hall in communities that may have lost their fire hall or another type of key safety building is another important feature that we can address.
A Company with Experience
Liberty Steel Buildings is a leader in pre-engineered steel buildings (metal building systems). Our remote fire hall building initiative aims to provide building solutions through the use of pre-engineered structures, which are being offered in three (S/M/L) pre-designed standard sizes and layouts. This initiative recognizes the unique challenges faced by rural communities in terms of emergency response capabilities and aims to provide support and resources to address those challenges with a streamlined building order process.
Rural areas often have limited resources and face geographical and logistical constraints that can impact emergency response times. Investing in fire halls and public safety infrastructure is crucial to enhance rural fire departments' capabilities, improve response times, and ultimately increase public safety in these areas.
The Importance of Fire Halls
When it comes to protecting remote communities, the role of fire departments cannot be overstated. Fire halls are the heart and soul of firefighting operations and serve as vital hubs where firefighters prepare to respond to emergencies at a moment's notice. The design and construction of these essential facilities require careful consideration of various factors, including safety, functionality, cost-effectiveness, and speed of construction.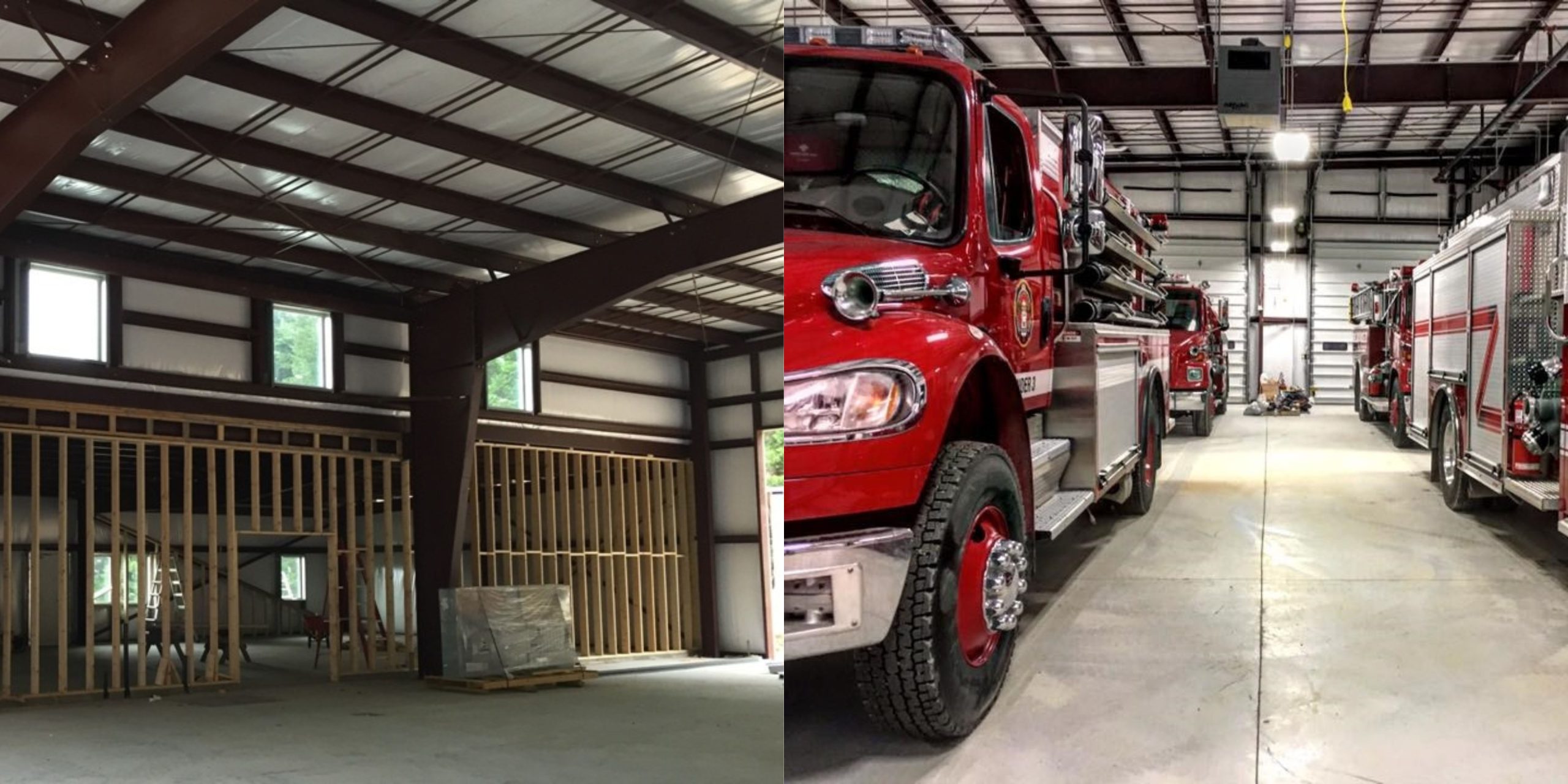 Fire halls must accommodate functions including apparatus parking, gear storage, training areas, administrative spaces, and even living quarters for firefighters. Pre-engineered steel buildings offer remarkable design flexibility, allowing fire departments to create layouts that precisely meet their specific requirements. Liberty's building plans can offer functionality that extends to the inclusion of recreational spaces and storage, or allow for community meetings/events.
In emergency services, time is of the essence. Liberty's pre-engineered fire hall building packages follow an efficient construction process that significantly reduces the overall construction timeline. The pre-fabricated steel components are manufactured off-site, ensuring precise quality control and are then assembled on-site by an experienced, certified professional installation team.
Liberty's building solutions provide shortened overall project timelines. Save the headache and extra costs knowing we've already completed the bulk of the work you need to get started on your first building package order. Saving on design time and fees allows for reduced overall project cost, which is ideal for smaller communities that need to replace a facility or do not have one within their community. Liberty's standard building plans can also be used for police stations or general personal use, including storage, meeting, or recreational spaces.
Summary
Prioritizing the development of fire halls and other public safety infrastructure in small communities is important for public safety. By providing communities with the means to select the best design to fit their needs easily, they can quickly and easily be equipped with a fully functional fire hall.
Get ready to build with Liberty! Contact us directly or through our website to learn more about Liberty Steel's pre-engineered fire halls and how we can help your community. Whether your needs are for a pre-designed or fully custom build, we can be your fire hall solution!